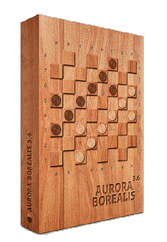 What is Aurora Borealis Draughts?
"Aurora Borealis Draughts" is a well-known checkers database program with a built-in playing and analysing module that is incredibly convenient and easy to use. Many years of development has made this program useful and easy to understand for both experienced and amateur players.
Today using multi-draughts version of "Aurora Borealis Draughts professional" you can work with 14 draughts variations (English, Italian, Russian, Brasilian, Czech, Pool, Spanish, Thai, Turkish, International, Killer, Frisian, Spantsireti and Canadian), play with advanced computer partner, analyse, easily comment games and create your own games databases!
Read about the advantages of "Aurora Borealis Draughts professional". You may also download free version with databases right now and register the program with a trial activation key or buy a full version on disks!
Important notes
Licensing
Since January, 2017 an option of reactivation "Aurora Borealis Draughts" has been back. All released keys (including trial keys) allow reactivation 6 months after last usage.
Aurora Borealis Draughts Lite
Completely free versions 3.6 and 4.0 for Windows are available for users who do not need all the power of Professional version. The engine can use only 16 MB of memory, up to 6 pieces endgame databases and some database functions are not available in Lite version.
Reviews
Aurora Lite has been reviewed in Vietnamese on Taimienphi.vn
Downloads
For your convenience all installation files (program and endgame databases) are available in clouds: Google Drive, Yandex Disk and Mega.
Awards