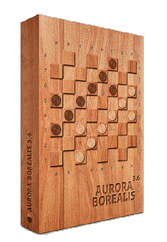 Why "Aurora Borealis Draughts professional" is the best choice?
It's an excellent partner to spend some time playing draughts with
Built-in program engine has a strong master level on Russian/Brasilian/Pool draughts. Lower play levels for amateur players are available also.
Aurora Borealis 3.0 engine is a silver medallist of Draughts Programs Europe Championship - Moscow, 2007; 3.6 version is a Silver medallist of Unofficial World Championship - Poland, 2016 (Both Russian draughts).
However, you may also use for play and analysis purposes free external draughts engines (version 2.x only!): 'KingsRow' by Ed Gilbert (English and Italian draughts) and 'Kallisto' by Igor Korshunov (Russian, Brazilian and Pool draughts) all of them are world top-level draughts engines and already included in Aurora Borealis 2.11 professional Kit.
You can play and analyse 14 variations of draughts: English draughts (American checkers), Italian (Dama Italiana), Russian, Brazilian, Spanish, Czech, American Pool, Thai, Turkish (8x8 board); International, Killer, Frisian (10x10 board); Spantsireti (8x10 board); Canadian (12x12 board).
"Aurora Borealis professional" was the first multi-draughts database program since 1999 and one of the largest and powerful ones by now. It allows you to easily analyse and comment your games, add variations, organize databases and export for printing or internet.

Interface languages:
English
Russian
Portuguese
Spanish
French
Italian
Dutch
Czech
Chinese
Polish
Lithuanian
Turkish
Large databases with Master's games:
International (2006) 260000 games
Russian (2014) 110000
English (2006) 30700
Brazilian (2014) 19000
Italian (2005) 6300
Czech (2008) 3000
Spanish (2007) 800
Aurora Borealis Draughts professional has powerful database tools, such as:
fast and convenient search (by names, tournaments, positions, patterns, combinations...) ;
statistics tree (immediately shows a statistics of the current position, so you don't need to search through whole database);
copy, sort and organize your games databases now as easy as you cannot even imagine;
support of import and export PDN databases allows users to import/export their databases from/to other programs;
export games to Rich Text Format (RTF), compatible with Microsoft Word and many others text processors, is the easiest and most comfortable way to get games ready for publication purposes, look at an example;
export games to HTML internet files allows you to publish your commented games on web-sites, look at JavaScript example and plain HTML example.
Features:
Play and analyse 14 variations of draughts most popular in the world (English, Italian, Russian, Brazilian, Czech, American Pool, Spanish, Thai, Turkish, International, Killer, Frisian, Spantsireti and Canadian) with any time control

Large opening books and learning databases

Endgame databases (up to 10-pieces for 64 games, and 8 pieces for International)

Modern "anti-human" playing style

Self-teaching option

Interactive and automatic game analysis

Powerful database tools

Full version requirements:
Processor: 1000 MHz or higher (multicore 2000MHz is recommended)
RAM: 256MB minimum (2GB is recommended for maximum performance for 64 games, 4GB for 100 game; for full 10pc@64, 8pc@100 endgame databases not stored on SSD 16GB is recommended
Operating system: Windows XP or higher (Vista, 7, 8), 64 bits is recommended (will not work on most of virtual machines!)
DVD drive (for installation from DVD)
HDD: 50MB on HDD for minimal installation; about 8GB for optimal installation of all games; up to 600 GB on HDD for full installation of all available endgames databases. SSD is recommended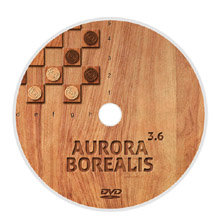 Awards